Laser Therapy in Green Bay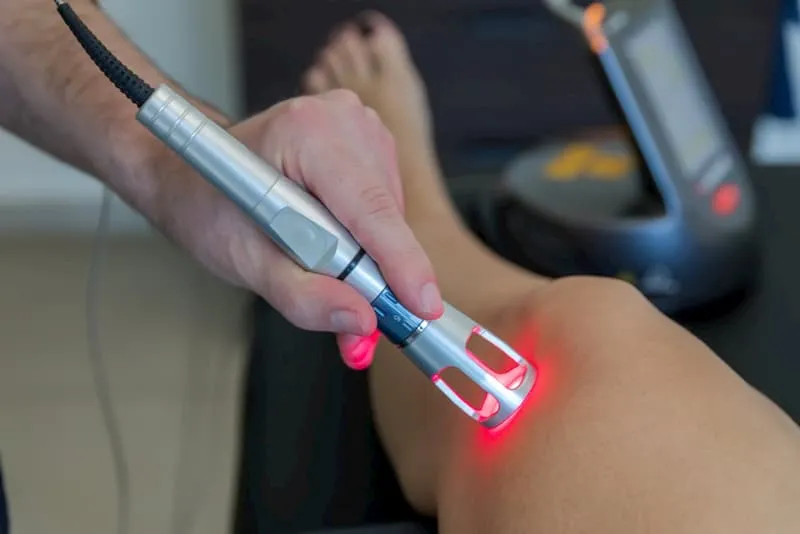 How does Laser Therapy work?
The laser works by creating an increase of blood supply, bringing in oxygen to the cells. It stimulates the lymphatic system, pulling swelling and inflammation from the area. The body's basic unit of energy, ATP (Adenosine triphosphate), production is stimulated in the cells helping them have the energy to function normally. The pain reflex is broken, offering immediate relief of pain.
Laser therapy can alleviate pain, reduce inflammation and accelerate recovery from a wide range of acute and chronic clinical conditions. Significant reduction in swelling has been noted as well as tissues are better able to move fluids out through lymphatic drainage pathways.
Conditions Treated by Laser Therapy
Soft Tissue Injuries

Tendinitis
Back and Neck Pain
Carpal Tunnel Syndrome
Myofascical Trigger Points
Epicondylitis (Tennis Elbow)
Sprains, Strains
Repetitive Strain Injuries
Chondromalacia Patellae
Plantar Fascitis

Degenerative Joint Conditions

Rheumatoid Arthritis (RA)
Osteoarthritis (OA)

Neurogenic Pain
Herpes Zoster (Shingles)
Post-traumatic Injury
Trigeminal Neuralgia
Fibromyalgia
Diabetic Neuropathy
Physiological Effects:
Biostimulation including improved metabolism & increased cell metabolism
Improved blood circulation and vasodilatation (blood supply)
Analgesic (pain relieving) effect
Anti-inflammatory and anti-edematous effects
Acceleration of tissue repair and wound healing
Relieves acute and chronic pains
Increases the speed, quality and tensile strength of tissue repair
Increases blood supply
Stimulates the immune system
Stimulates and improves nerve function
Develops collagen and muscle tissue
Helps generate new and healthy cells and tissue
Promotes faster wound healing and clot formation
Reduces inflammation
Angiogenesis (improved circulation)
Reduction in fibrous tissue (scar tissue) formation
Biochemical Effects:
Releases Nitric Oxide
Increase ATP Production
Increase Fibroblast Migration
Increase Macrophage Activity
Increase Keratinocyte Activity
Increase RNA DNA Synthesis
Increase Enzyme Production
Increase SOD Production
We offer two different types of laser therapy at Inspirit Therapy
Cold Laser
We use cold laser therapy to treat both acute and chronic pain. Using a low-power laser, we stimulate healing in tissues. This is safe and effective for certain types of pain. Ask your therapist if it's right for you.
High Intensity Laser Therapy
Our practice is proud to offer a high intensity laser therapy modality, using LightForce Therapy Lasers. The laser is used to target deep tissues, stimulating the body's natural healing processes. This treatment doesn't require surgery or drugs, and it is a painless procedure. When used in conjunction with soft-issue and manual modalities, high intensity laser therapy can help improve effectiveness, decrease myofascial pain, and increase mobility. Laser therapy is on the cutting-edge of physical therapy treatment and offers an innovative approach to conditions such as:
Fibromyalgia, Arthritis, Neuralgia, Neck & Back Pain, Knee & Ankle Pain, Sciatica, Sprains & Strains, Soft-Tissue Injuries, Tendonitis, Sports Injuries, Carpal Tunnel, Tennis Elbow, Plantar Fasciitis, And Many More!
What makes these high-intensity lasers so effective? They have a high power output that allows them to penetrate far below the skin. This means they can target tissues deep within the body for improved healing, drastically cutting down on treatment time and benefitting even severe conditions. Patients experience improved mobility, decreased pain, and increased function, faster.
Contact Us About Starting Laser Therapy Today
Start with the least-invasive treatment options if patients are experiencing pain. To reduce pain, try cold laser therapy before considering surgery or shots. Laser therapy can also be used to wean patients off pain medication. Call us today to learn more about our low-level treatment options.
Request An Appointment
Please fill out this form and
we will contact you about scheduling. Kristin Lindgren


You get the care you need vs. spending time and money on appointments you dont. Love the whole staff and Eliza is amazing. Judy Christoff


Takes the time to listen. Easy to communicate & looks at the big picture, not just one particular area. Will treat you like family.